Many foreign customers think that registered trademarks only need to register their own corresponding business class, this is a misunderstanding.
Take a look at the list of various classes trademark applications for 2018 (China) below, with Class 35 topping the list.
The number of class 35 trademarks registered in 2018 was 932,935, up 42.44% from 2017.
Class 35 is the general class for trademark registration, involving advertising, import and export agents, pharmaceutical, medical supplies retail or wholesale services.
Any brand is inseparable from the process of advertising promotion and sales, especially in the medical and healthcare field.
Since the Chinese Trademark Law does not require the oath of the trademark when it is registered in China, if your trademark is registered by others in Class 35, it will be difficult and expensive to save your trademark. This will undoubtedly affect your brand.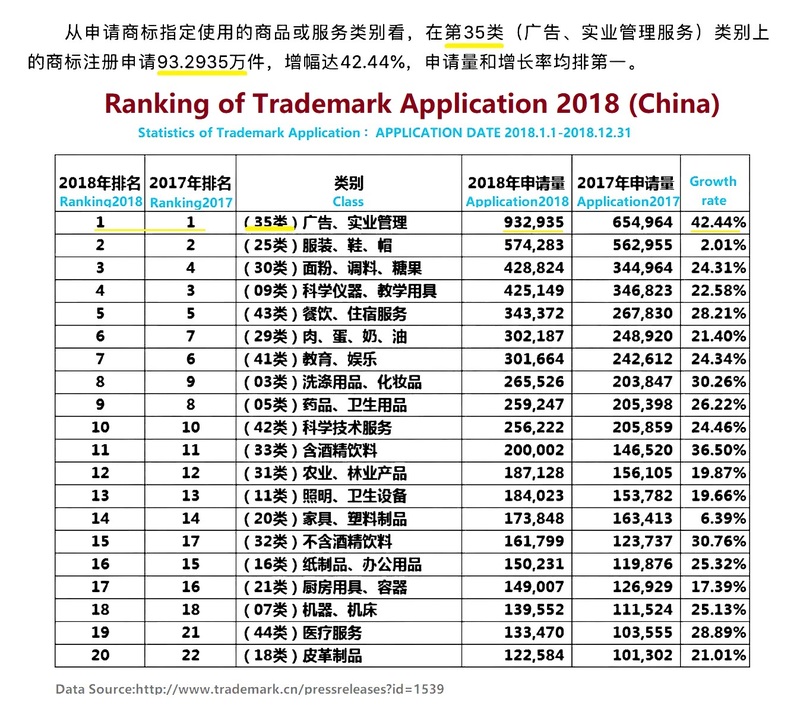 Ranking of Trademark Application 2018 (China)
Statistics of Trademark Application: Application Date 2018.1.1-2018.12.31
XDR IP is a professional intellectual property service organization. For further information, please contact us by email at hey@xindaruiip.com.